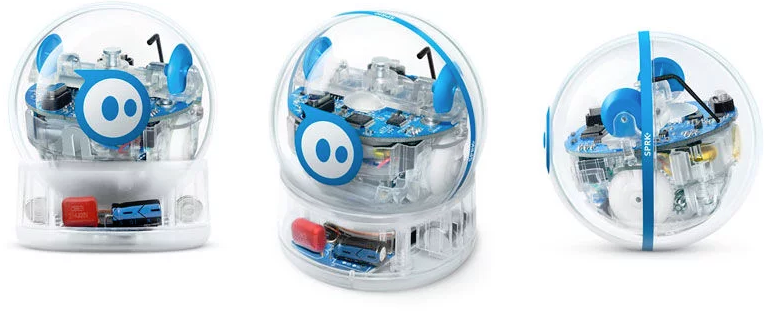 Sphero Educational Robots
What are Spheros?
Spheros are educational robots created to help teach coding (drawn, block-based, or text-based) to youth. They connect to a device through Bluetooth, and are controlled by the Sphero Edu or Sphero apps found on Google Play or the App Store. To learn more about them, visit the Sphero website: https://sphero.com/
How do I use the Sphero?
You can control the Sphero using the drive, block coding, or text coding functions on the Sphero apps. For introductions to coding with the Sphero, we have made a small booklet available for both the SPRK+ and BOLT that has basic lessons from our past Afterschool Coding Club programs. You can also look at the videos and lessons on the Sphero Edu website here: https://edu.sphero.com/
What kind of Spheros do you loan?
We lend the Spero SPRK+ (6 robots) and the Sphero BOLT (6 robots).
Why are you lending the Spheros?
One of the current goals of the Penticton Public Library is to meet our community members where they are. Right now, many of our patrons are at home. To meet this goal, we are adding more lendable items to our Library of Things, which the Spheros are part of. We also offer boardgame and Nintendo Switch game loans, and plan to add bird watching kits and other technology. Keep an eye on the space!
What are the rules for borrowing a Sphero?
Penticton Resident and BC One-Card holders may borrow a Sphero for a 3 week loan period with no renewals. The library card used to borrow a Sphero must have no fines on it, and only one Sphero may be checked out to an account at any time. Spheros must be returned inside the Library building. Please do not use the outdoor dropbox.
USB Cable or Wall Charger replacement: $10.00
Return via outdoor dropbox: $15.00
Sphero SPRK+ Replacement cost: $100.00
Spher BOLT Replacement cost: $130.00
How do I put a Sphero on hold?
Log in to your account on our library catalogue. Search for "Sphero", select the type you want (SPRK+ or BOLT) and place a hold on the device.
Where can I get more information about driving or coding them?
Each Sphero comes with an instructional guide inspired by what we used in our in-person coding club programming. 
Do you offer programs with the Spheros?
We are not able to offer in-person programming at this time.
I have another question that hasn't been answered here.
Please email lharker@pentictonlibrary.ca for more information about the Sphero Collection.